Please be very careful with fire!
You should never throw cigarettes out of car windows, because only a little spark is needed to start a big fire. Be very careful when using a barbeque and make sure you have a bucket of water at hand.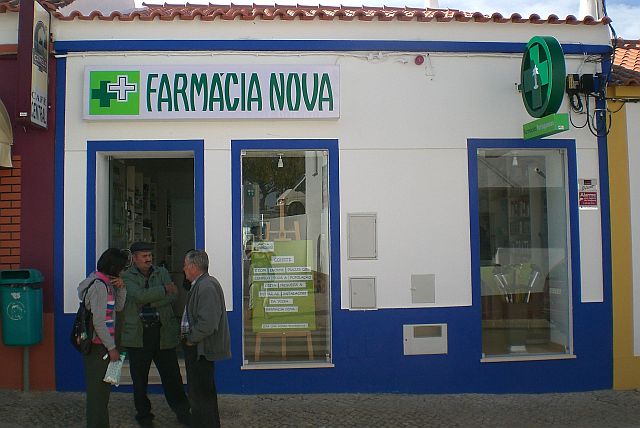 Medical attention
The local health centre, located opposite the church, is open daily, but the doctor is not present all the time.
You can reach the Centro de Saude by telephone: 282361193
There is a private general practicioner in the village, Dr. Domingos Francisco. An appointment can be made at the pharmacy.
The pharmacy (Farmàcia Nova) is located near the church, next to Café Central, telephone: 282360000, fax: 282360001.
It is open every day, except Sundays, from 9.00 to 20.00 hours .
Aqualab
Laboratory for blood and water tests
Rua Dr. Bernardina Ramos 28
Open on Wednesdays between 9.00 and 11.00 hours
Opening hours
The shops are open between 9.00 and 19.00 hours and generally close for lunch between 13.00 and 15.00 hours.



Markets
4th Monday of each month, S.B. de Messines
every 1st Thursday of the month, Azilheira - São Marcos da Serra
every 12th day of the month, Santana da Serra
every last Saturday of the month, Azinhal - Alte. Very nice farmer´s market.
on 24 April, 28 June, 15 September and 11 December, there is a large market (feira) in the village of S. Marcos da Serra, next to the cemetery
every 2nd Saturday of the Month, car boot sale in Messines
Mobile shops
Every day there is fresh bread for sale.
Every Wednesday and Friday at the church square around 10.00 a.m. you can buy fresh fish.
Every Thursday afternoon there is a van with frozen food passing through.
Every Thursday afternoon you can buy fresh vegetables of the season.
Emergency - 112
Fire (bombeiros)
Fire brigade: 282361666
Police (GNR)
GNR Messines: 282339246
Post Office (C.T.T.)
Located opposite the church: telephone: 282361119
Opening hours: 9.00 - 13.00 and from 14.00 - 18.00 hrs.
Train
The railway station at the entrance of the village has been closed. The nearest station is in S.B. de Messines (15 km).
For information on train schedules and prices contact 808208208 - Comboios de Portugal - or visit their website (in English) cp.pt
The bus

Up to date info on public transportation (EVA buses) you can find here.
Taxi
João Marques drives a taxi in São Marcos da Serra. You can find him at the Drogeria "a Nova".
Telephone: 282361514
GSM: 968657251
Petrol station
There is is Galp service station at the IC1, direction Albufeira, about 1 kilometer after the crossing.
Local Business directory
For a listing of local businesses, please look at the page "the parish"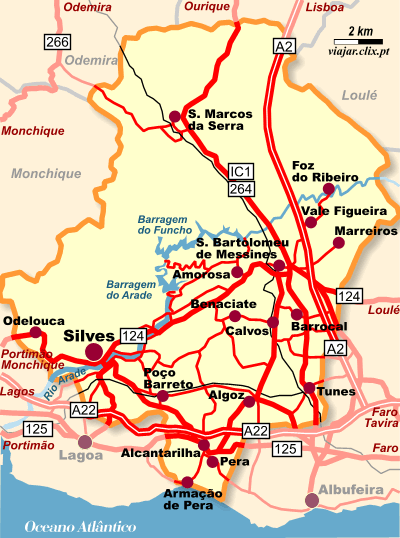 Parish Council (Junta de Freguesia)

The president of the parish is Luis Cabrita

The junta de freguesia is located opposite the church, Largo da Igreja, telephone: 282361119, fax: 282361645, mail: jfsmarcos@iol.pt
Website: http://www.freguesiadesaomarcosdaserra.pt/
Local holidays
1 January - New Years day
Easter weekend: feira do folar in S. Marcos, with easter cake, traditional products and live entertainment.

24 April - feira de Abril (large market)

25 April - day of the Saint patron of the village: S. Marcos. Also this is Liberty Day.

1 May - labour day - day on which the people of S. Marcos da Serra traditionally eat caracois (little snales)

10 June - Portugal day
28 June - feira de S. Pedro
14 and 15 August - festa de verão (summer fair)
15 August - procissão das Velas (procession with the virgin Mary)
3 September - dia de cidade (day of the city Silves)
15 September - feira de Setembro
1 November - all Saints day
1 December - independence day
8 December - Immaculate Conception
11 December - feira da Barreira
25 December - Christmas Day